EDITED May 23, 2012.
Sorry it took a long time but I just got home from a short vacation! I wasn't able to validate the entries over the weekend so I had to do that the whole afternoon. And oh my goodness! There were A LOT of entries! Over 500 all in all! :D Thank you very much to all those who joined. :)
However, I think there was some confusion on which giveaway post the entries should be posted on (the tumblr or blogger one). In the mechanics, I asked everyone to comment on the BLOGGER giveaway post and added a link with the anchor text "this post". But a few days after the announcement of the giveaway, I was able to put up disqus boxes which allows you to comment on the Tumblr post as well. And thus, there were entries on both the blogger and tumblr giveaway posts. I take this as my fault. I wasn't able to write the mechanics properly, so with this I am sorry. I want you all to know, that I considered all entries which were submitted regardless of whether they were posted on the correct giveaway post or not. :)
One more thing, I was a bit disappointed to see a few entries that were void. :( Some didn't like the pages I asked them to, some had their facebook statuses or tweets set in private and most surprising of all, some submitted links to "empty" posts. This here got my attention. Yes. Even with 500 plus entries I do take time to go through each one of them.
If you want to join my giveaway, please have the decency to at least like the sponsor and my facebook pages or even my blog. I decided to host the giveaway for my readers and my future readers so if you don't like or plan to read my writings, then don't bother submitting an entry for my giveaways. Owki? :)
Now, on to the giveaway winners!
My go to giveaway box is super full! :D Thank you thank you all!
I wanted everyone to have a fair chance. So I decided to sprawl everything on top of my laptop. And started shuffling 'em like crazy!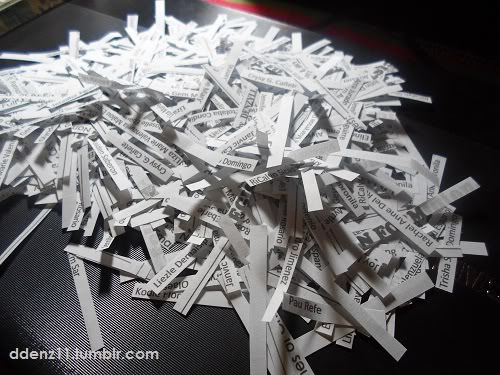 I picked out the the winners for R&K Manila first. And the lucky four are…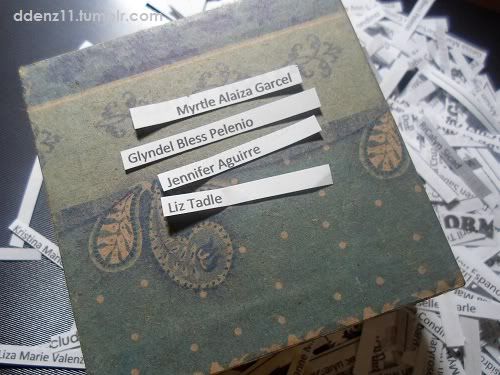 Congratulations girls! You won P250 Gift Certificates from R&K Manila! :D You can use this as cash to purchase shoes or bags from their shop. I will be forwarding your names and emails to their company. Please contact R&K Manila for your discount coupons. :)
—————————EDIT————————
Okay so let me go through what happened. When I picked out the winner for the Grand Prize, there were two names listed on the paper as you can see in the picture below.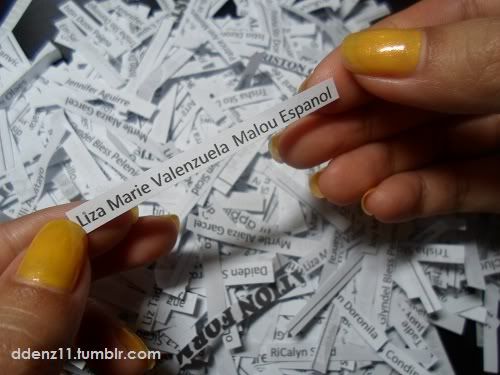 It might be because of the long trip home or the late hour which I did the draw, but the fact is instead of one I drew two to win the Grand Prize. Since there is only 1 makeup loot to be given away, I asked these two girls if it is okay for them to have their names ran through random.org (list randomizer) and the name that will be chosen by the website will win the Grand Prize. The second placer will win a Charm Bracelet from my jewelry line, djaDesigns, as compensation for the hassle.
Again girls, I am really sorry for the mess. And thank you very much for your consideration! Rest assured to all of my readers/followers and sponsors that this will not happen again.
Now without further ado, the Grand Prize goes to…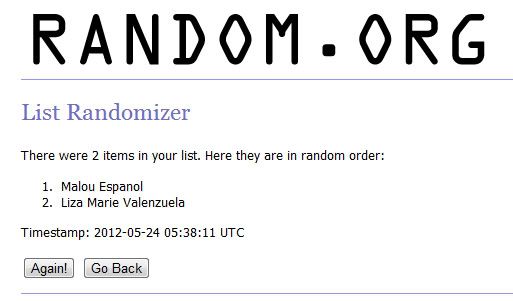 Congratulations to the both of you! :) Your prizes will be shipped out anytime this week. So please wait for them to arrive by this weekend or next week.
I can't stress this enough. THANK YOU VERY MUCH to all of you. This is crazy! I mean 500+ entries? :D Just insane! Now to those who didn't win, don't fret! I have two other giveaways still on going. Check my sidebar to see which one you'd like to join. :)
THANK YOU THANK YOU THANK YOU! I hope Post Its! will live on for many more years and that you guys will be there every step of the way.